Main Configuration
Qingdao Haijia Machinery is the governing units of Chinese Textile Machinery!
It's sales champion for 15 consecutive years in China Water Jet Loom's industry!
1.230cm Cam Device Specification
HW-4008#
No.
NAME
ORIGIN\TYPE\PERFORMACE DECRIPTION
1
Wall board
We adopt HJ-408 special heavy enhanced, according to TSUDAKOMA
Drawing,HT220-230 standard material,large CNC precision machining.

2
Gear in the wall board

Adopt Taiwan Datong(TTG) gear, ultra-quite,wear-resistant,low vibration and high precision.
3
Bearing in the large box
Bearings inside are Sweden SKF, Bearings outside are made in japan.
4
Beating up shaft
114 * 10 reinforced, heat treatment of qualitative, sandblasting, 11 feet, Tsudakoma standard beating-up axis.
5
Slay
SUS304 stainless steel reinforced,supplied by the top manufacture in china, achieve cloth smooth.
6
Stripe
Italy brand---Tianqi stripe, strengthening take-up.
7
Plastic stocks
New type and high quality plastic parts.
8
Beam
Adopt Tsudakoma structure to design, the beam up and down side are using double Angle, thickness is 12 mm.
9
Folder yarn tackle
Electronic.
10
Suction pipe

∮76mm,thickness 6mm,SUS 304 stainless steel material.
11
Cross beam
heavy and lengthen treatment.
12
Tension spring
∮12mm
13
Panel
HJ-408 Special type
14
Let-off and take -up device
Mechanical or electronic
15

Temple bar,guide
HJ-408 Special type ,3mm stainless steel
16
Temple
Five ring three rows of fine needle puncture (0.3mm) under the pressure of Temple (made fine denier fabric cloth smooth) South Korea Renhe or Jilong brand.
17
Leno parts

Assembly is made in Taiwan (slide: stainless steel, low noise leno assembly, smooth operation and long service life).
18
Main motor

Red flag brand only supplied for HJ, power is 2.8KW(cam is 2.2 KW). Save electricity, fast start, low noise, little park, long life and other advantages (inside bearings, HJ imported from Japan directly, NACHI brand).
19
Electronic Control System

XINLIAO BRAND.
20
Measuring
Electronic measuring
21
Feeler

Photoelectric weft
22
Stopwatch
Electronic.
23
Plug

Shutai ceramic (36/26 or 36/28 mm).
24
Pump spring
AWA JAPAN OR TAIWAN pump spring.
25

Nozzle
Korea MDH.
26
Single valve
AWA JAPAN or Korea Tae beac.
27
Oil seal
Made in TAIWAN.
28
Cutter
joint bearings made in TAIWAN , scissors, scissors spring, improve efficiency.
29
Suction motor
Mechanical energy saving type suction motor(can choose electronic one).
30
Regulated water tank
Double filter, bucket type.
31
Lifting heald rod bushing
America DuPont materials production, wear-resistant, long using life.
32
Heald frame
XIANGRUI brand, aluminum material cross the head above is 10cm, following is 12 cm.
33
Painting
TSUDAKOMA yellow color, twice primer, paint once again, special paint production lines, improve the rust effect.
34
Stainless steel screws of whole machine
Taiwan DONGMING SUS304 stainless steel screws, not rust.
35
Waterproof device
TSUDAKOMA type transparent waterproof cover.
36
False-twist spindles
After the pull-out.
37
Yarn shaft
Double nozzle generally used shaft.
38

Feeler seat
Feeler seat can be adjusted in front and back, up and down.
39
Effective width
165cm-228cm.
165cm-228cm.
40
Cast
Confirmed with top supplier, manufacturing by the standard drawings, guarantee the material and quality.
2.Advantage of our factory:
With CE certificate and ISO9001 certificate
we have our own R&D team
Good after sales service
Reliable manufacture
Exported to India,Bangladesh,Egypt,Indonesia
20 years manufacturing experience
we have high precision processing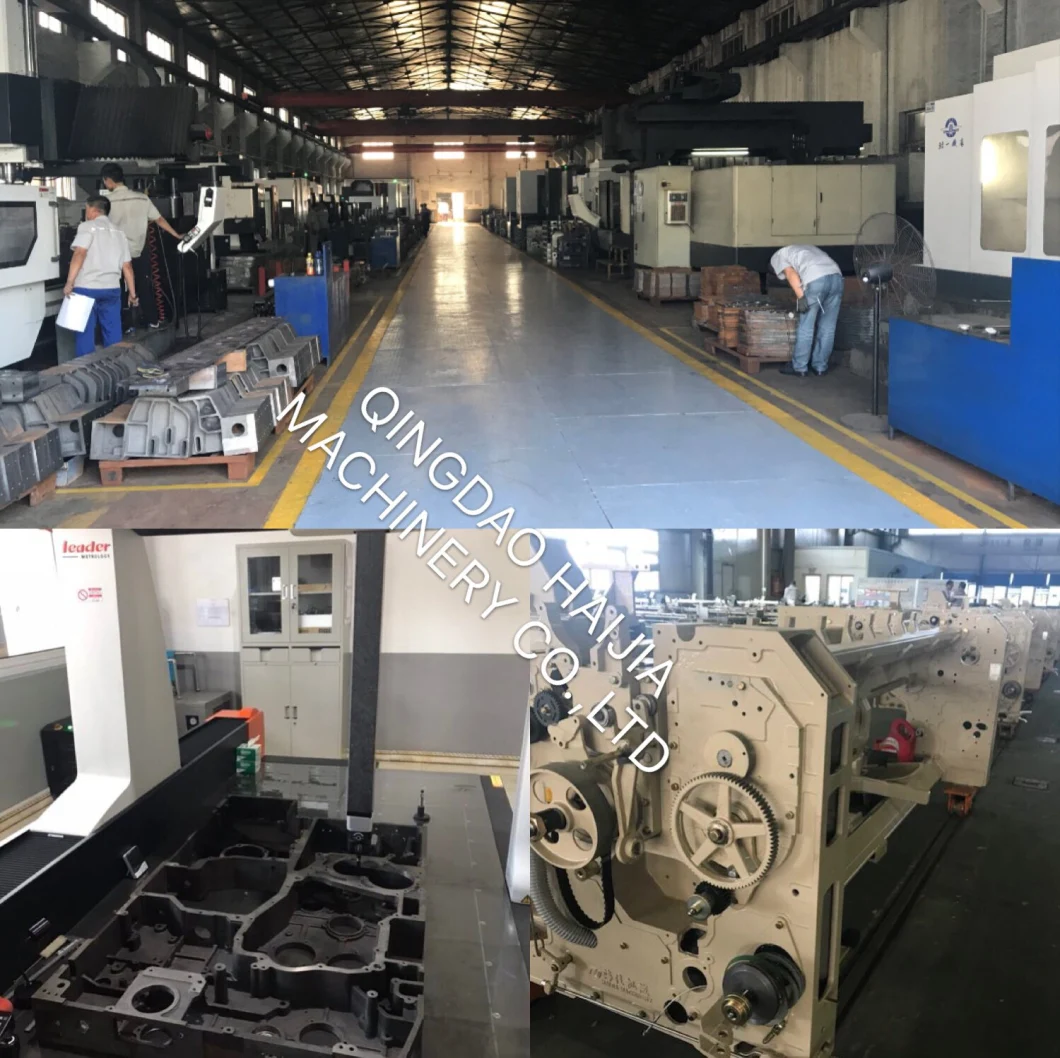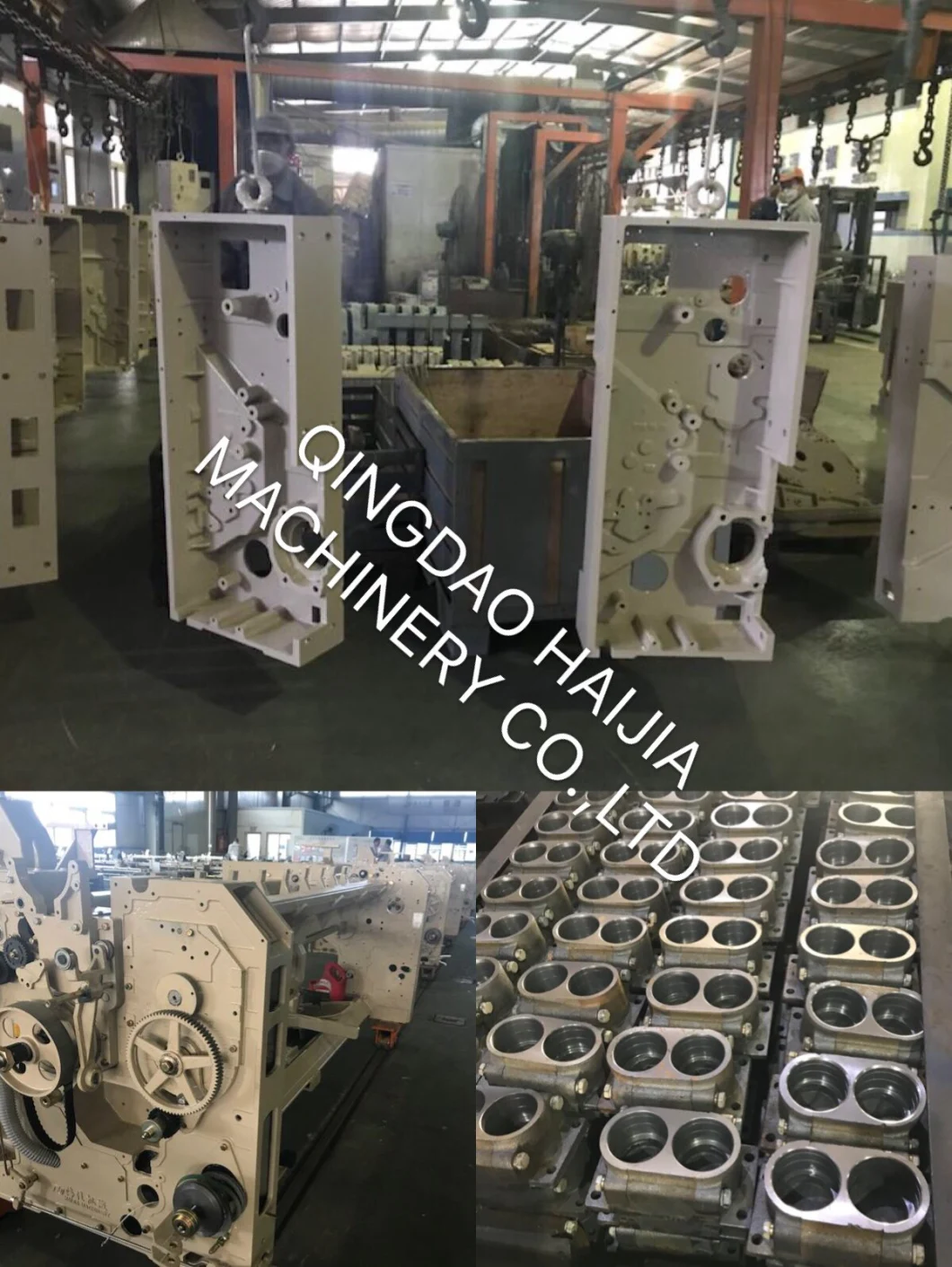 3.Our company
Qingdao Haijia Machinery Co., Ltd. was established in 1995, since its establishment has been focused on the development of manufacturing water jet loom, is currently set research and development, manufacturing, sales and service as one of professional manufacturer of the largest water jet loom, is the participation of China water jet loom industry standards makers.Our company have our own R&D team,Devotes to the water jet, air jet loom research and development, creates a world famous brand textile enterprise Cutting-edge technology to build high-tech products, quality service helps us establish a world- class brand. Each month we can product 800 sets at least. Water jet loom sales for , the industry's firs 13 consecutive years, is China's textile machinery governing unit.23 years' experience, we can provide high grade service, and be your trusted textile machinery expert.
good surface quality, wide range of fabrics. Haijia heavy water jet loom has a number of invention patents, utility model patents. Such as reinforcement of beam design, from the high-speed operation of the air jet loom to maintain the stability of the characteristics, which makes the machine more stable, low defective rate and the quality of cloth. For example, weft design optimization, optimization of the beating angle, the beating is stable, smooth cloth. The optimization of the design is also reflected in the fabric of a wider range of adaptability.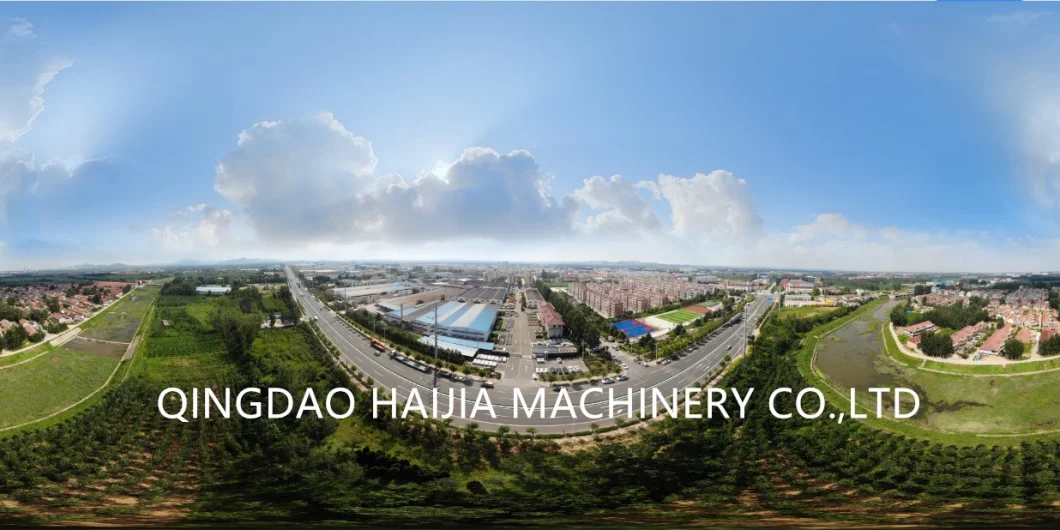 4.Weaving scope:
high count yarn,high density,high quality fabric cloth
5.Raw material:
combed yarn 7s-80s ,silk, polyster yarn
6.Why choose us
-Good performance and high quality machine,with good price.
-A talented engineers team releasing new model every years . Customized design is available;
-Overseas, we provide professional after-sales service engineers.
-Passed ISO9001,CE, SGS quality system;
-Abundant Customers from India, Bangladesh, Egypt, Indonesia and North Korea etc, highly satisfied with our product. Because of low cost, good performance and advanced model;
-Working with us, you can lower your cost for premium weaving loom, as we are factory direct and have the economy of scale.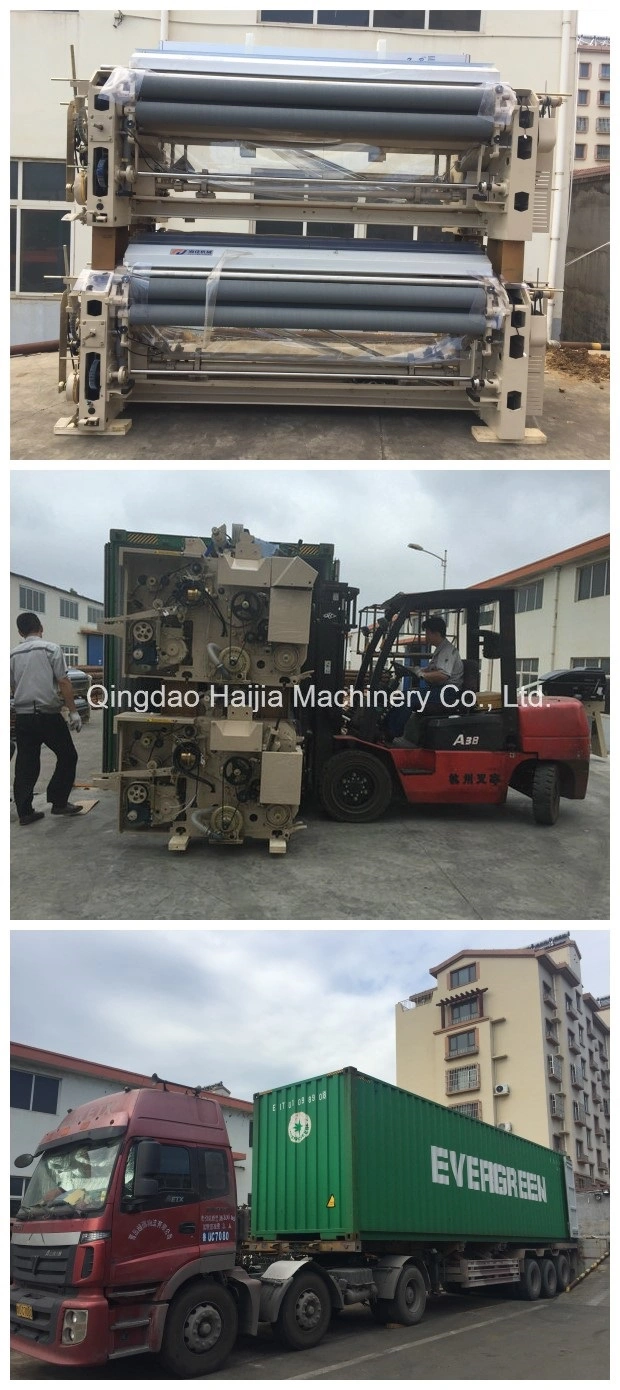 6.FAQ


(1) Q: Are you a manufacturer or agency?
A:We are a comprehensive enterprise integrating independent r&d, manufacturing, final assembly, marketing and after-sale service, which can meet the needs of diversified customers and provide them with high-quality and affordable products and all-round services.
(2) Q: How about the quality?
A: Electric control and major raw materials are provided by listed companies, and key components are developed by our own research and development team. We have high-precision processing centers such as mazak, hyundai dri WIR and HARTFORD, as well as high-precision testing instruments such as three-coordinate to guarantee the quality of our products.

(3) Q: How's the after-sale service?

A: We have more than 20 years of professional service engineers in textile machinery industry, if you need our first time to serve you.
7.Connect with Mr.Junior
QINGDAO HAIJIA MACHINERY CO.,LTD
ADD:NO.39 HUANTAI DONG ROAD,WANGTAI TOWN HUANGDAO QINGDAO CITY CHINA
MOB:+86-15191897872
TEL:+86-53283130887
FAX:+86-53283130888