The YC600 air-jet loom adopts a high stabilized box-type wallboard structure and multi-support balance beating system, reduce the vibration while the high speed running, easier to tight beat the weft yarn. The loom equips with high-speed response import solenoid, optimized the air path control system, using the most advanced high-speed weft insert mode, to achieve our product's air consumption is 35% less than others.

We provide multiple options to our customer such as "Electronic Let Off / Electronic Take-Up / Mechanical Let Off / Mechanical Take Up" and different sheddings not just traditional air-jet shedding like " Underneath air-jet type cam shedding / Dobby", and water jet's above cam shedding is also available on this small air jet, reduce the cost. Multiple designs for the back beam make it fit for polyurethane, cotton, and mix material made warp positions adjust, entered the weaving variety range.
It also the best choice for weaving medical gauze fabrics.

What are the specialties of this product?

1.The best choice to replace the small rapier loom
YC600 series air jet loom is specially designed for weaving smooth edge fabric, reduce the sorting cost afterward, it also can adopt the middle-cutter along with the tuck-in device, improve the production efficiency for the customers. Our tuck-in device could fold the fabric edge under 1cm, which is the best tuck-in loom in the Chinese market.

Electronic System
Adopting DSP electronic control system, both the calculation and transmission speed become much higher, and
no interference. Germany Siemens integrated suppliers of a complete set of technology,
deeply provide a powerful guarantee for high speed and energy saving.

3.Eccentric Beating-shaft
Eccentric type rocker bring better balance and stability, to reduce the vibration machine running big defect,
make the ground vibration reduced by about 35%.

4.Double beam to protect the heddle frames
Upgrading of heald frame guide device, with double beams, before and after adding a heald frame plate,
reduce the machine of heald frame vibration at high speed,
to guarantee the stability of the loom at high speed at the same time reduce the wear and tear of the heald frame.

Through a long time test and practice,
YC600 series air jet loom already has outstanding performance in weaving the stretch fabric, twill fabrics.
Now is become the first choice of air-jet loom model instead of the small rapier machine.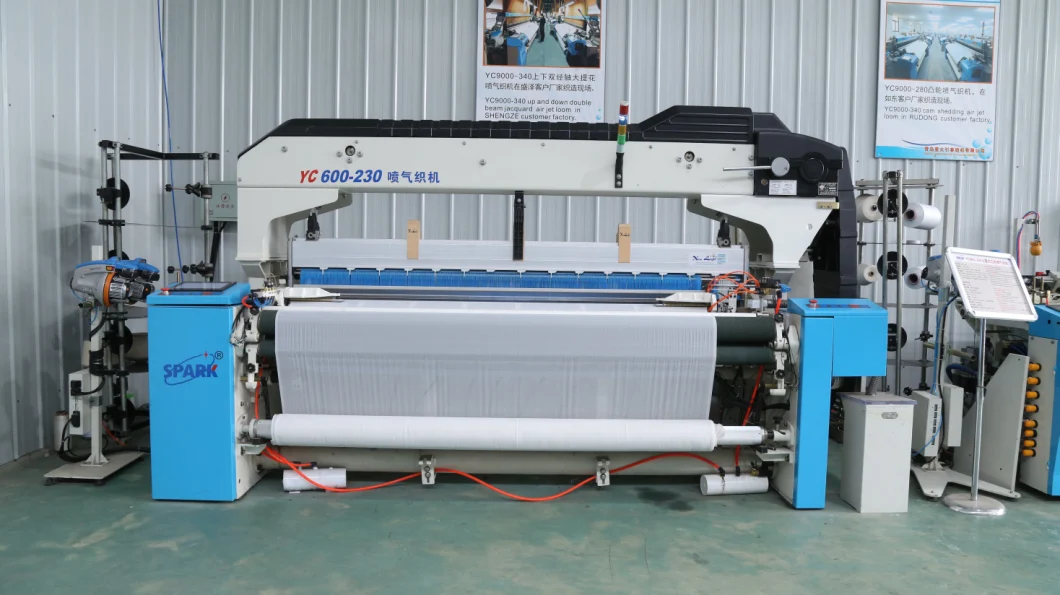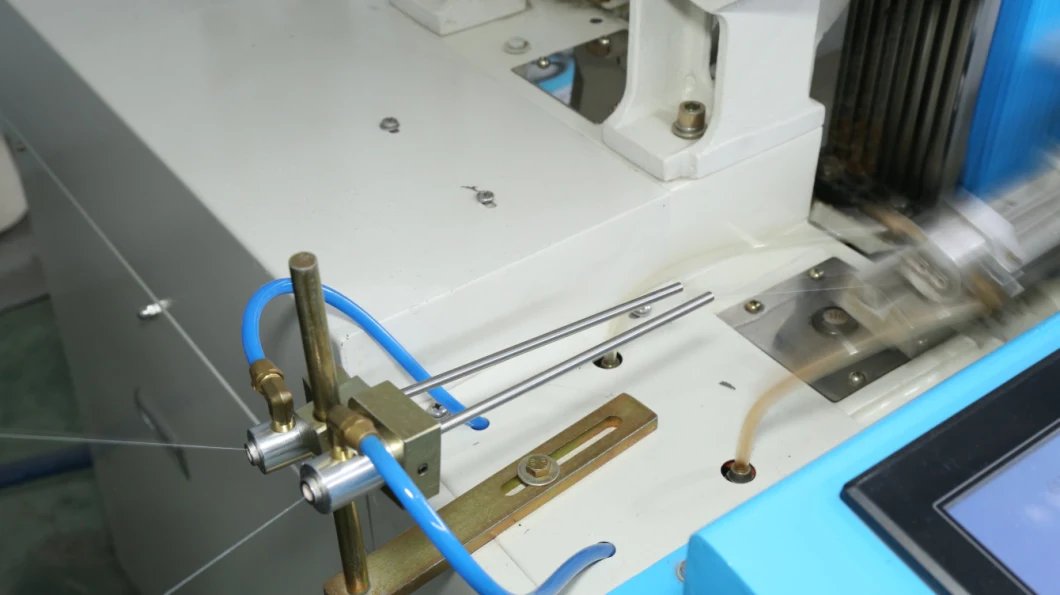 Air-jet loom technical parameters

Item

air jet loom configuration

Remark

Nominal reed space

◊150,◊170,◊190,◊210,◊230,
◊280,◊320
Useful reed width:Below 280cm cut 0-60cm
Above 280cm cut 0- 80cm

Drive

Motor choose by reed. Shedding type

Weft selection

( )set weft storage,( )main nozzle,
any weft

◊2 color;◊4 color; ◊6 color

Weft insertion

Electronic control mail,
auxiliary nozzle relay weft,
with auxiliary main nozzle,
SMC solenoid valve from Japan

Beating

More support feet beating solid shaft,
With weight, Crank linkage beating
above 280cm six-bar linkage,
below 280cm four-bar beating

Let off

Electronically controlled continuously
positive let-off, suitable for
◊φ800 beam ◊φ1000mm beam

Take-up

◊electronic take-up; ◊Mechanical take-up

◊sand roller; ◊double pressure roller;
◊rubber roller;◊barbed leather roller

Winding

◊inside the machine winding
◊outside the machine winding
◊inside the machine winding maximum
roll diameter 550mm
◊outside the machine winding maximum
roll diameter 1200mm

shedding

◊positive cam shedding(up to 8)shaft
◊crank shedding (4)shaft
◊electronic dobby shedding(up to 16)shaft
Cam box and dobby manufacture:
◊Bintan
◊Staubli
◊Niupai

Shedding cams

◊1/1;◊ 2/1; ◊3/1; ◊2/2;◊4/1 shaft

Heald frame

Number of New Light heald frames

Heald wires

Heald wires ◊J type 331; ◊ O type 330

cutter

Mechanical shears

Selvage

Planetary gear cutter edge institution

temple

30 hoops temple in the cloth above

Back beam

Double back beam, positive loose warp

Control box

◊7" ◊10.4" touch screen ;
computer control system ;
process parameters, monitoring, self-diagnosis display

Parking device

4 color indicator show failure
A broken warp: 6-row drop pin;
B, cut weft: double weft feeder
C,selvage: near switch
D,catch weft: sensor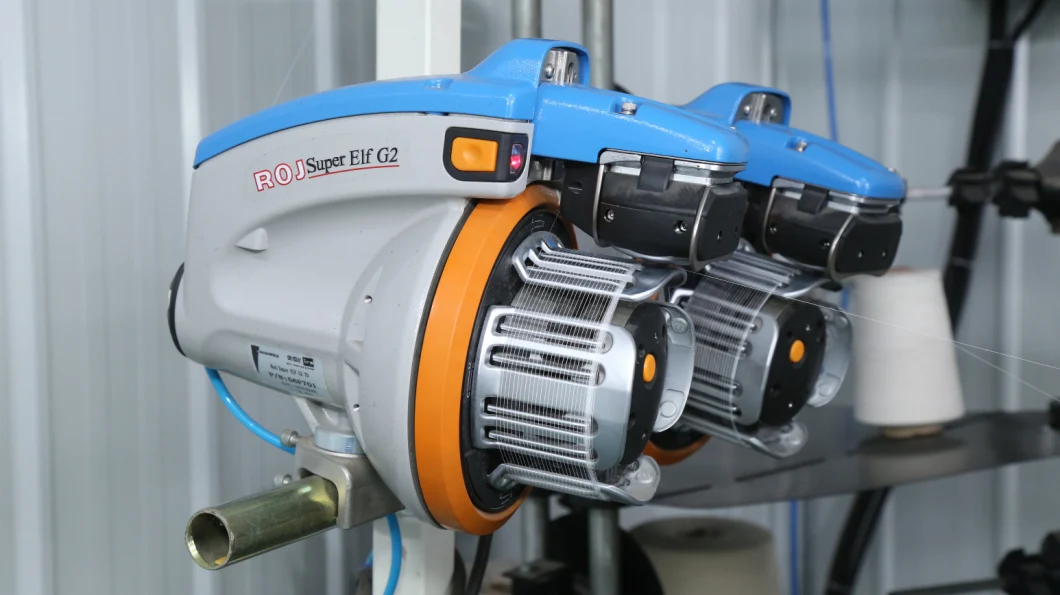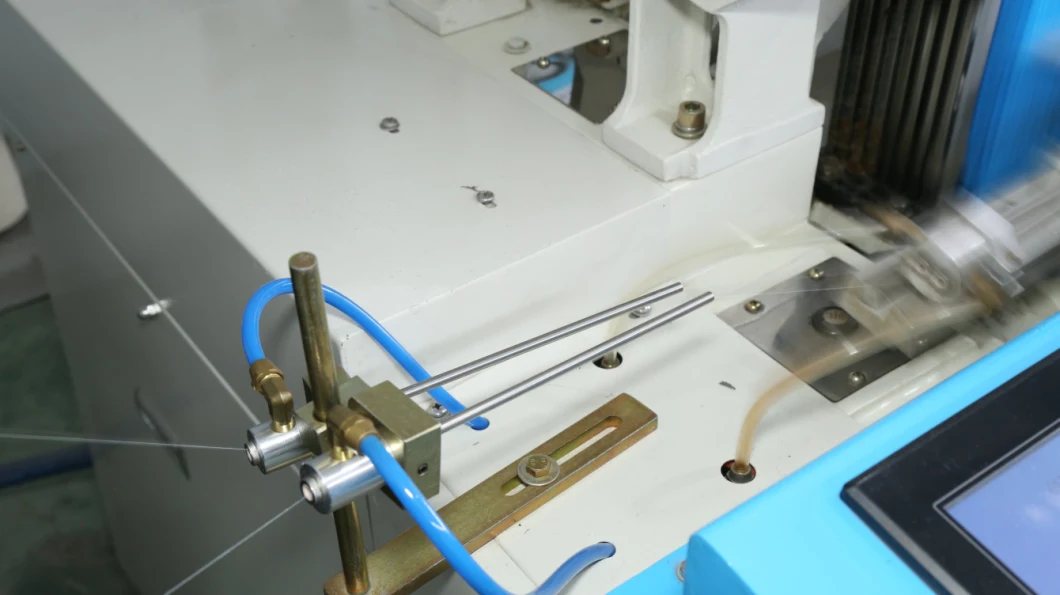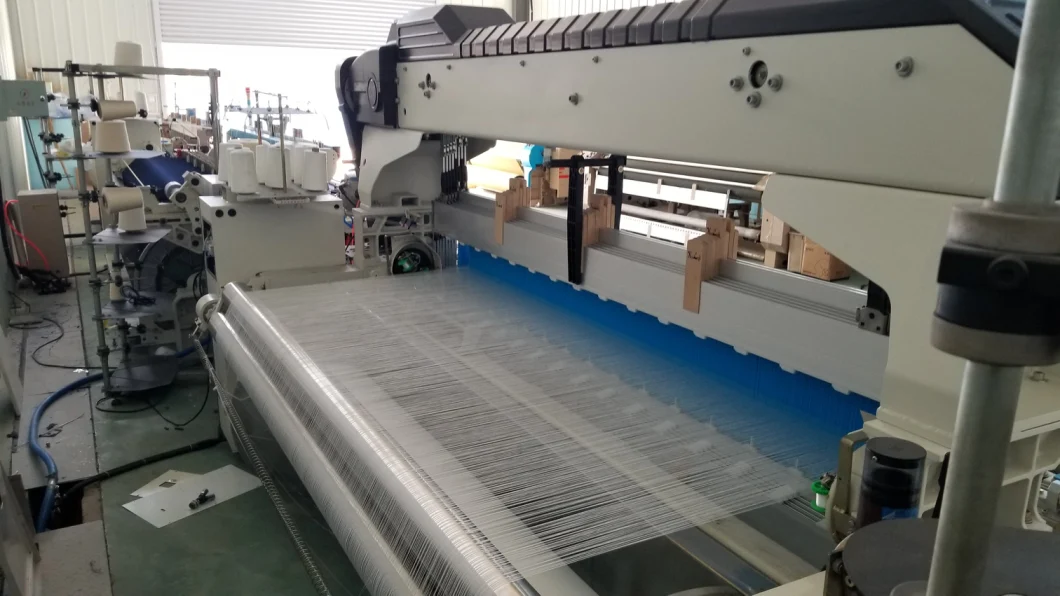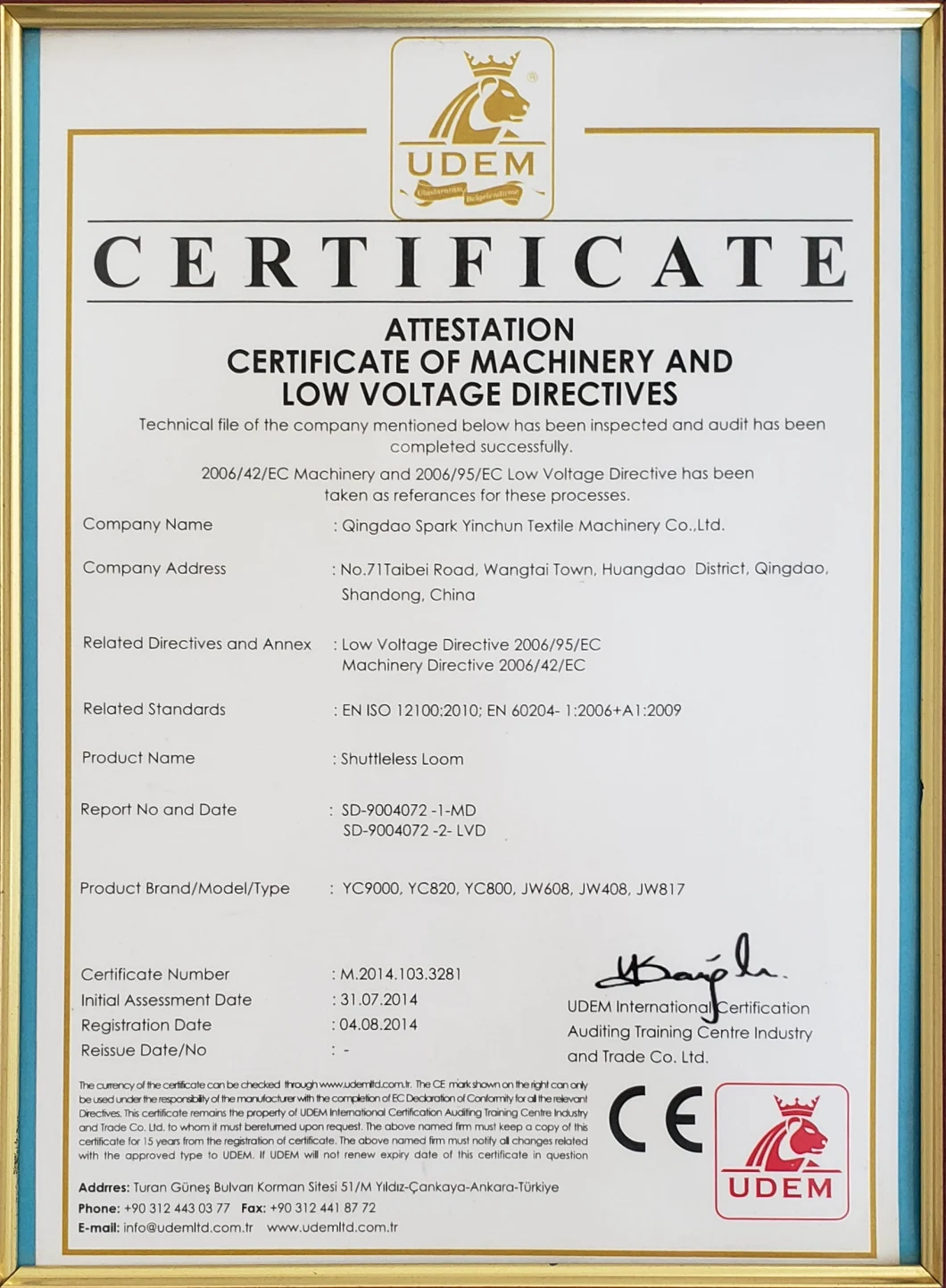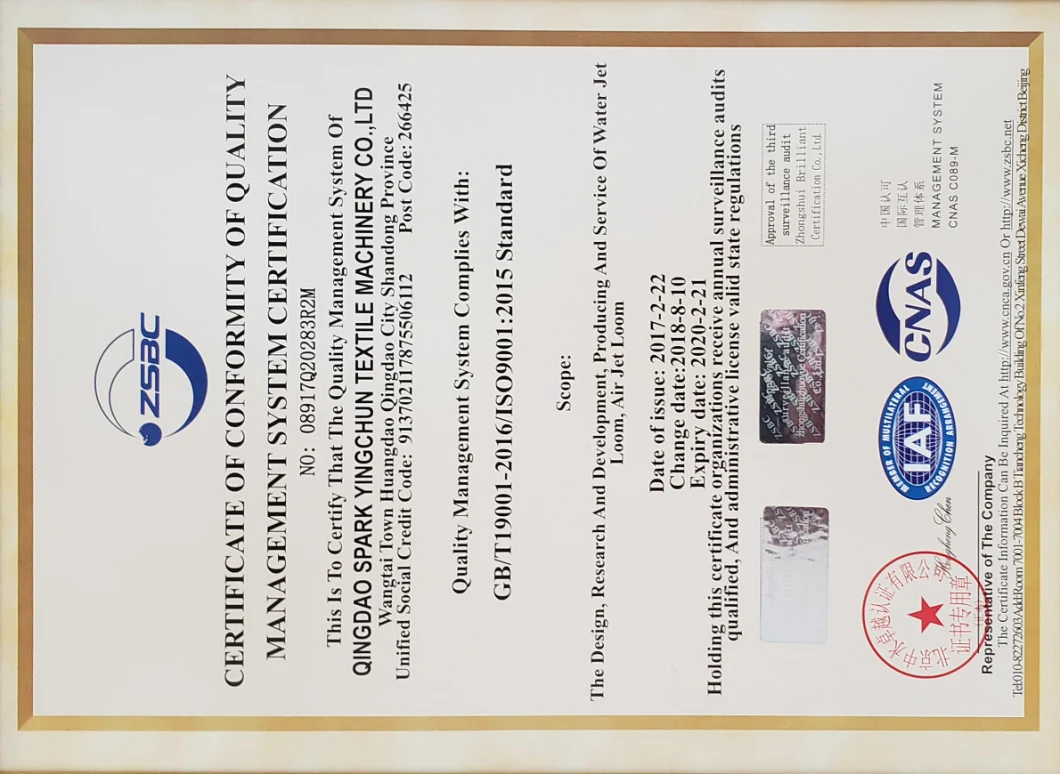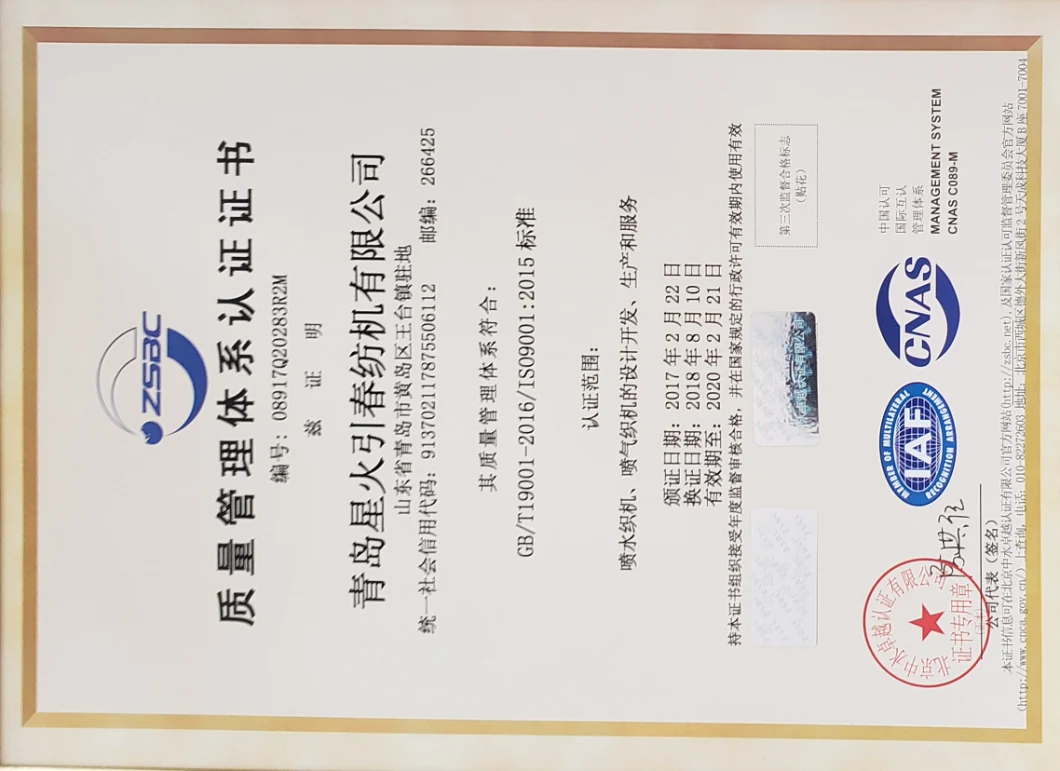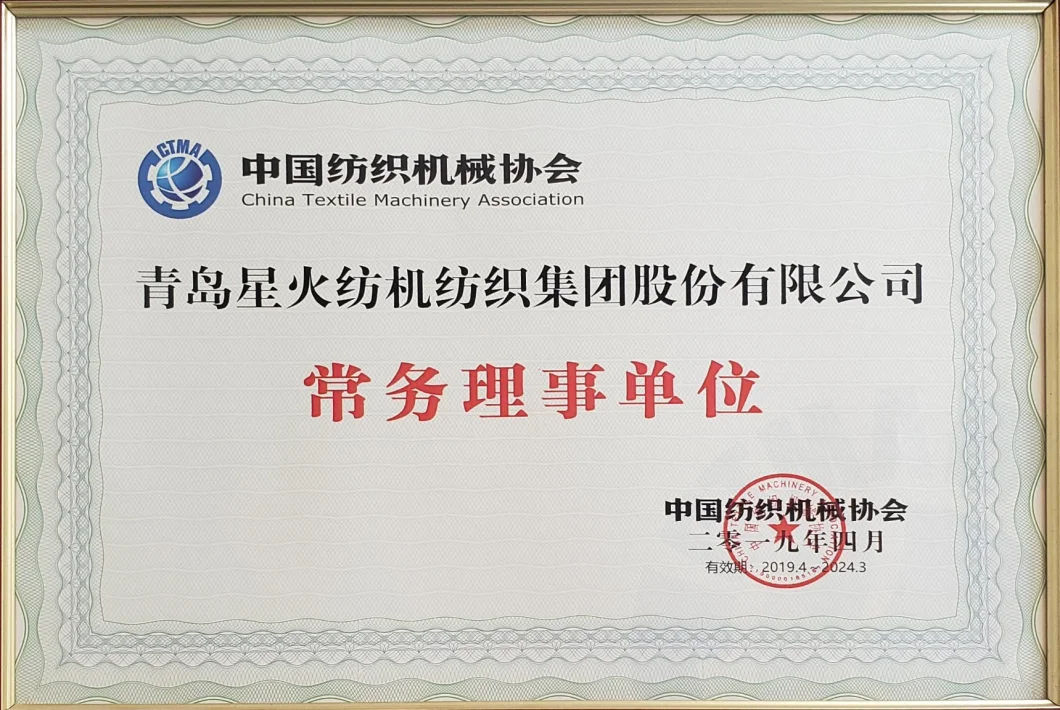 Translation& Description:

Qingdao Spark Yinchun Textile Machinery Co,ltd
As a standing director unit of China Textile Machinery Association.
Which is a drafting and making unit of China Air Jet Loom Industrial Standard.

By: China Textile Machinery Association
Spark Yinchun Textile Machinery Co., Ltd. is the first name that comes to mind in China for providing high-quality air-jet looms and water-jet looms, backed by extensive professional support services that include after-sales spare parts supply, machine installation and debugging, 24/7 troubleshooting, and on-site training.
We are a subsidiary company of Spark Textile Machinery & Textile Group co, ltd., a standing director unit of China Textile Machinery Association, which is a drafting and making unit of China Air Jet Loom Industrial Standard. Demonstrating our passion for offering top of the line products, Spark is GB/T90001-2015 quality management system certified, GB/T19022-2003 measurement management system certified and is a AAA standard enterprise, awarded by the National Standards Management Committee of China.
With more than 40 years of experience in the design and production of advanced weaving machines that keep up with changing market requirements, Spark's product catalog includes YC series air-jet looms and JW series water jet looms for customers all over the world. Known for their high stability, reliability, and cost performance, our weaving looms are the perfect choice to satisfying your weaving needs.

Puls: We're sincerely looking for local agents or distributors in any foreign country. Please contact us if you have interested to cooperate with us.


Our expert and experienced team of technicians provides professional services from machine design, sample making, volume production, and quality inspection all the way to after-sales technical support.

Our workshop is equipped with over 400 pieces of advanced manufacturing equipment. The main parts of our looms are manufactured here in house by expert machine operators.

Aided by our professional technical team, skillful installation laborers, and advanced manufacturing equipment, Spark is fully capable of controlling weaving machine quality while simultaneously reducing production costs. We take pride in our ability to provide our customers with weaving machinery with optimal performance and competitive prices.
Spark is committed to offering high-quality spare parts to deliver maximum productivity with minimum downtime. Our spare parts policies are:
Vulnerable parts whose value is equivalent to 5% of the overall machine price are freely provided.

Within a one-year warranty, vulnerable parts are freely repaired or replaced. Out of warranty, customers need to pay the replacement part cost and freight fee.

Our experienced technicians are skilled in offering technical support and training services to help your weaving looms remain efficient and stable.

After delivery, Spark provides a 15-day to 1 month (depending on the loom quantity) of in-house training at the customer's location. Training includes weaving machine installation and debugging. The training and installation fee is $50/day.

Within 15 days after on-site debugging, our technicians will stay at your factory to observe the running status of looms and ensure there are no problems.

Spark offers 24/7 technical support and troubleshooting service via phone, e-mail, text, WeChat or WhatsApp, Skype, Line.

You can assign your engineers to come with us for a technical exchange.

Q: Are you a manufacturer or trading company?
A: We are a professional manufacturer holding our own International Trade Department with self import&export right

Q: Are you available for an on-the-spot invitation?
A: We warmly welcome our new and old friends to visit our company for detailed negotiation.
Meanwhile, we would send our exposition and relative information to promote a face-to-face meeting.

Q: Is the price offered changeable?
A: We always offer a reasonable price for every customer at the beginning, and the price can be changeable according to the purchasing quantity.

Q: How about the quality?
A: The main subassembly and raw materials are all supplied by large and skilled companies. The main key parts are researched & developed and machined by our own staff with professional assembly line work and a strict quality test system to meet your high-quality requirement.

Q: How's the after-sale service?
A: We provide well-trained and professional engineers available to service overseas.

Q: What about the delivery time?
A: Normally the delivery time is 20 days after getting the down payment. If the order is small and we have some looms in stock, the delivery time is 10-15 days. If our factory is busy with many orders in hand, the delivery time will be negotiable or as per our production plan.