YC9000Air Jet Loom Main technical characteristics
Manufacturers:Qingdao Spark Textile Machinery Co.,Ltd
Product name:Air Jet Loom
Product Model:YC9000
Reed width:170,190,210,230,280,340,360cm
Welf selection:1.2.4or6 color
Start mode:Start motor at high speed
Welf insertion:main nozzle+swing nozzle+sub nozzle
Supporting solenoid valve:Supporting solenoid valve integrated with flow cavity
shedding:positive electric multi-dobby shedding
Beating:Double side tank oil -bath type four-bar beating-up motion
Let-off:Electric servo continuous let-off
selvedge:Leno yarn by plancetary gear
weft breakage:reflecting double feeder device
warp breakage:electric warp stop device
shutdown display:screen display,multi-functional shutdown display lights
weft cutter:mechanical cutter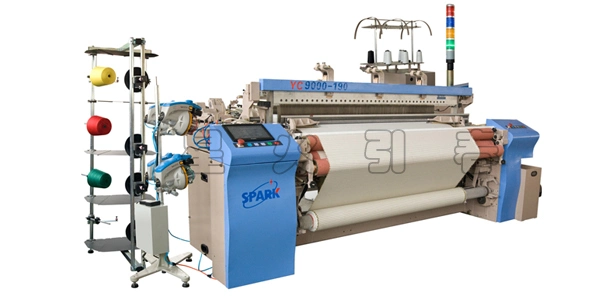 1.Efficient and stable beating-up mechanism:
High-speed and strong adaptable four-bar beating-up mechanism is adopted during narrow width weaving to ensure the weaving
efficiency;six-bar beating-up mechanism with abundant weft time during wide width weaving to ensure stable weaving.
2.Electronic take-up:
As an advanced take-up device in our country,it expands the varety of fabrics(5.9-1118.1/cm),easy operation and more precise.
3.Electronic let-off:
Warp tension is determined by tension sensor and amount of let-off is controlled by computer to ensure the prescision for amount of let-off and keep warp tension constant.
Energy-saving and precise solenoid valve:
A solenoid valve is equipped with three sub nazzles,saving more energy and gas,reducing cost of weaving and ensuring stable weft.
Model

YC-9000

Delivery Time

/ /2020

Width

150

170

190

210

230

280

340Y

360

QTY

Shedding

Crank

Manual Leveling Cam Shedding

Automatic Leveling Cam Shedding Y

Electronial Dobby Shedding

Jacquard

Shedding Supplier

Jiangsu NIUPAI Y

Changshu

Xi_an Bintian

Staubli

Yantai Song&Songs

Taizhou Juyuan

Heald Frame QTY

7

Heald Frame Supplier

Jiangsu NIUPAI Y

New Light

Color

1

2Y

4

6

8

Feeder

Spark Yinchun

IRO/ROJ Y

Mingjia Electric

Keyi Electric

Nozzle

Changzhou Jiete Y

Changzhou Xuanhong

Ausiliary Nozzle

Pure Cotton Y

Pure Cotton (Energy Saving function)

Pure Cotton with Reed (Energy Saving)

Filament

Filament (Energy Saving function)

Circular Filament

Circular Filament (Energy Saving)

Take-Up

Mechnical Take-Up

Electronic Take-Up Y

Take-Up Roller

Rubber Peronium Y

Sand blasting

Warp Beam

Single Y

Twin left to right

Double Up Down

Rear Beam

Negative backrest

Active backrest Y

Disc Diameter

800

914

1000 Y

Batching form

Entrails batching Y

Outboard batching

Let-off

Electric Y

Double Electric

Mechnical

Selvedge

Planetary

LenoY

Tuck-in

Selvedge Temple

Upper Fixed Y

Lower Fixed

Selvedge Loop with Needles

Rubbered Y

Needling

(Default)Stich Height 0.6-1.2 Y

(Medium-heavy)0.8-1.5

(Heavy)0.8-1.8

Middle Cutting

Planetary

LenoY

Tuck-in

Oiling

Concentrated grease Y

Automatic Electric grease

Power Capacity

1.8KW

2.2KW

2.7KW

3.0KW

3.7 KW

4.0KW

4.5KW Y

5.5 KW

6.5KW

Power Origin

Qingdao National Textile

Qingdao Tianyi

Wujiang Dynamo Y

Weinan Dynamo

Beam QTY

1.5

Roller

1.5

Dropper Pin/Heald Wire

10000

Reed

1

Loom RPM

480-500RPM

Electric

BGR

Yuanling Electric Y

Memo

Qingdao Spark Yinchun Textile Machinery Co., Ltd