Product description:
YC800 SERIES AIR JET LOOM
Specially for weaving medical gauze fabrics and common cotton fabric,with higher speed and production than the gauze machine.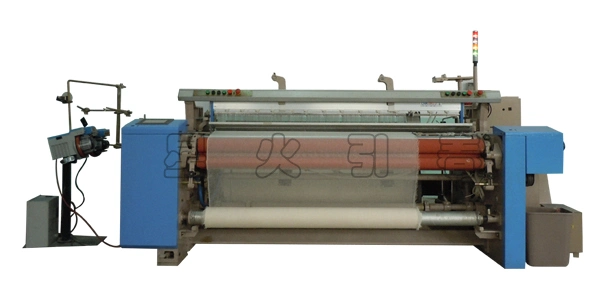 1.Adaopting properly structured and stable box-type frame structure,The solid beating shaft and multiple auxiliary supporting and conter weight balanced beating systems improve the stability of the loom at high-speed operating.

2.The loom is suitable for high-desity weave.Equipped with high-speed operation,intelligent10 inch big screen man-machine interface control system.High speed response of the imported electromagnetic valve,optimization of the pneumatic control system,using a main nozzle+seing nozzle+asub nozzle high speed weft,loom in gas consumption of energy than the same type of domestic models of gas 20%,

3.ELOand ETU configuration allows users only through a display input weft density can be,without changing the weft desity gear,can realize the variable density of weft weaving,thereby expanding the scope of weaving,has the advantages of simple operation,easy maintenance,high production efficiency and the like.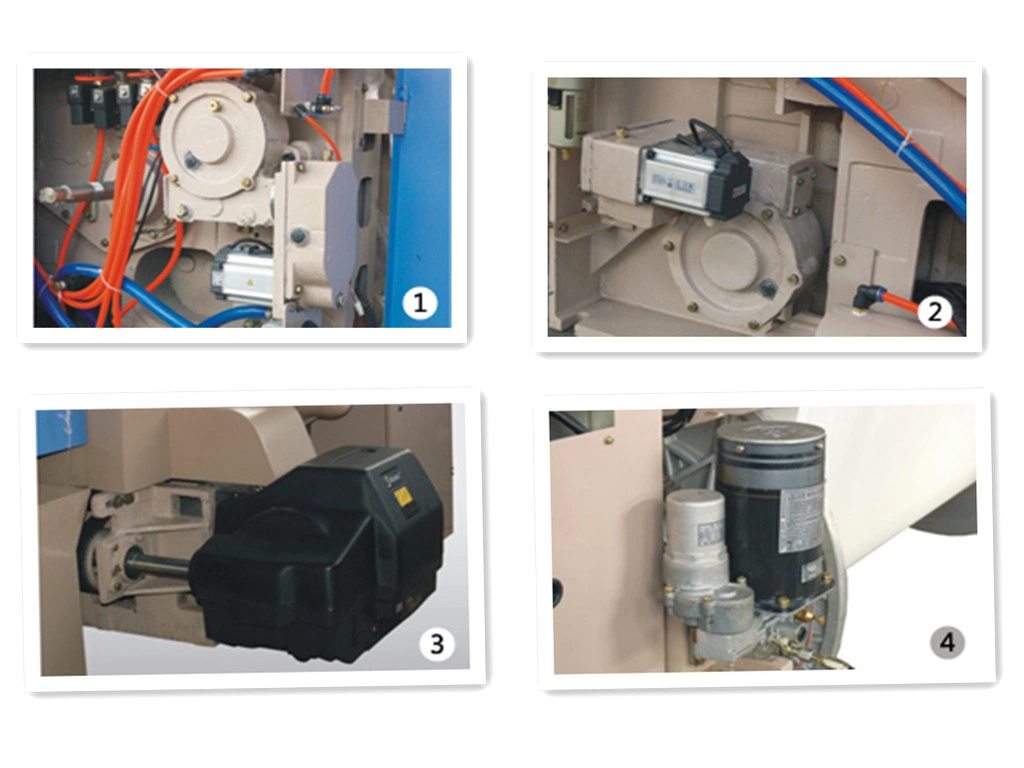 1

,

Electronc Take-Up
:

An AC servo motor is used for the take-up section.Computer controlled,it rotates fully-synchronously with the loom to control pick densities.The pick desities can be entered from the i-board.No change gears are required.Combined with the Electronic Let-Off,gaiting works are easy.
2

,

Electronic Let-off
:

This motion controls AC servo-motor speed in order to ensure constant warp yarn by checking warp yarn tension using a load cell and comparing with settension by CUP.The even tension during operation prevents the weaving defects.
The highly rigid frame guarantees the lowest vibration even during hight-speed operation for hight-desity fabrics.In order to realize the high speed ,we designed the oil bath lubrication systems inner the frame.
3

,

Shedding system:
Adopt positive cam shedding and Dobby device(selective).It is applied for weaving the fabric of plain cloth,diagonal cloth,and satin cloth.The accessories of cam box are lubricated by oil and indefectible.
4

,

Lubrication system
:

Through the computer control electric pumps,pump output timing automatically added,not through artificial come on,has the oil supply timely prominent advantages,can prolong the service life of the moving parts.
Manufacturers

:

Qingdao Spark Textile Machine Co.,Ltd
Product name

:

Air Jet Loom
Reed width

:

170

,

190

,

210

,

230

,

280

,

340

,

360cm
Welf selection

:

1.2.4or6 color
Start mode

:

Start motor at high speed.push-button start,stop,f/r slow move
Welf insertion

:

main nozzle+seing nozzle+sub nozzle+abnormity lock
Supporting sparay solenoidvalve

:

Supporting sparay solenoidvalve
Shedding

:

positive electric multi-dobby shedding
Beating

:

Double side tank oil-bath type four-bar beating-up motion
Let-off

:

Electric servo continuous let-off
take-up

:

Electric take-up
Selvedge

:

Leno yarn by plancetary gear
Weft breakage:Reflecting doule feeler device
Warp breakage

:

Electric warp stop device
Shutdown display:Screen display,multi-functional shutdown display lights
Weft cutter:Mechanical cutter
Electric control system:High-deficiency,large screen,vga color image display touch human-computer interface
Company Information
A: History:More than 30 years' experience with matured technology,skilled working team and perfect after-sales service
B: Main Products: SPARK YINCHUN are specialized in design, manufacturing
and marketing of
Water
Jet Loom & Air Jet Loom
C:Product /Quality Guarantee: All the Machine have 1 year quality guarantee.
D:
Reputation:Enjoy good reputation from our end users with high quality,reasonable price and perfect sales service
Contact Info
Ellen: mobile:+86-18353204512
Our Services
1-We are 24 hours online,all customers can contact us successfully via whatsapp,skype,QQ,E-mail
etc.
2-Please do not hesitate to make
inquiry, you can get reply within 24 hours
3-Enjoy the best support from our skilled design and technique department
4-We have the professional sales team and after-sales service team, you can get the best solution and service with our great enthusiasm.