GA798B-III Terry Towel Rapier Loom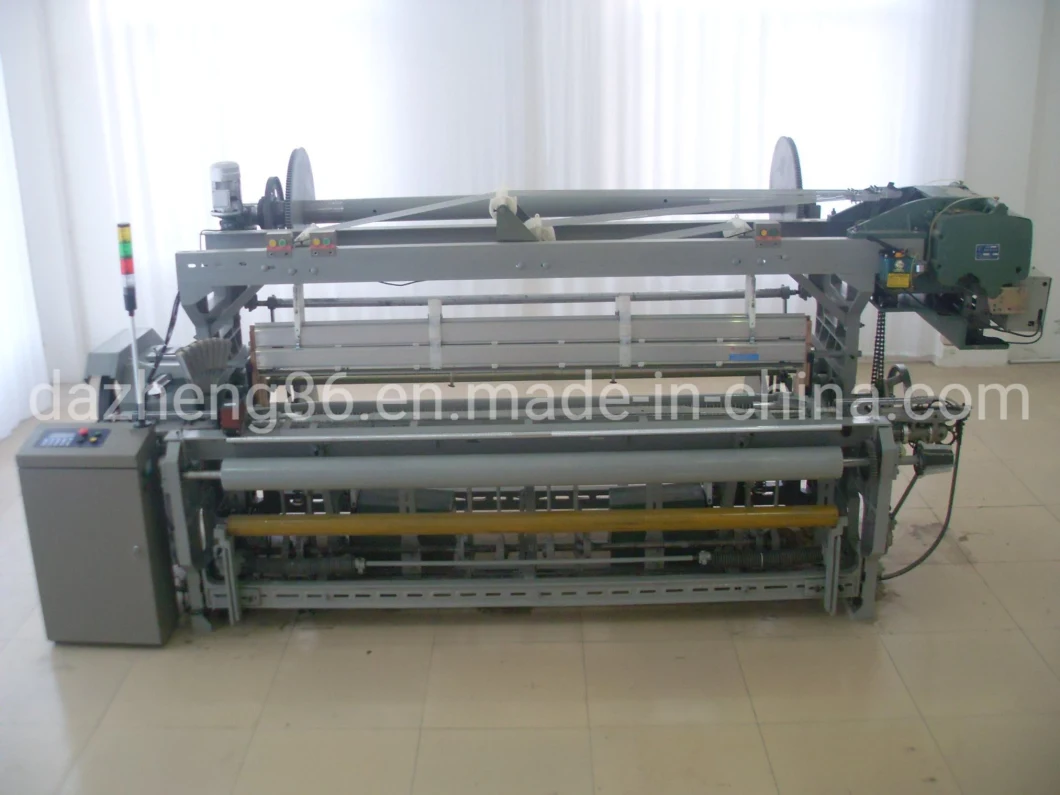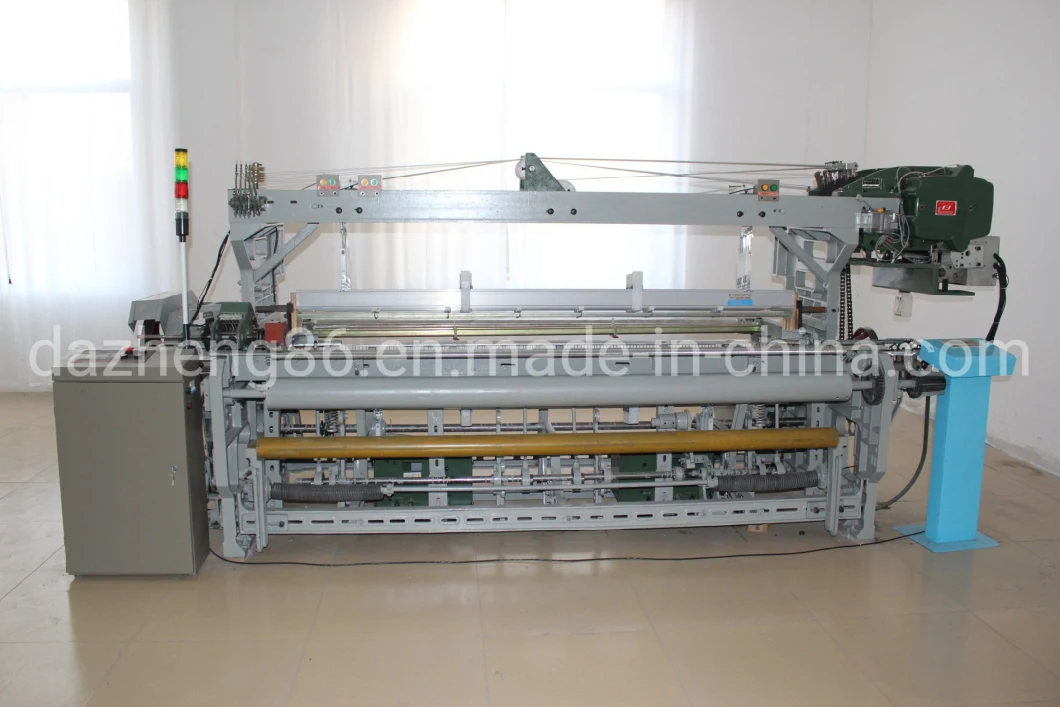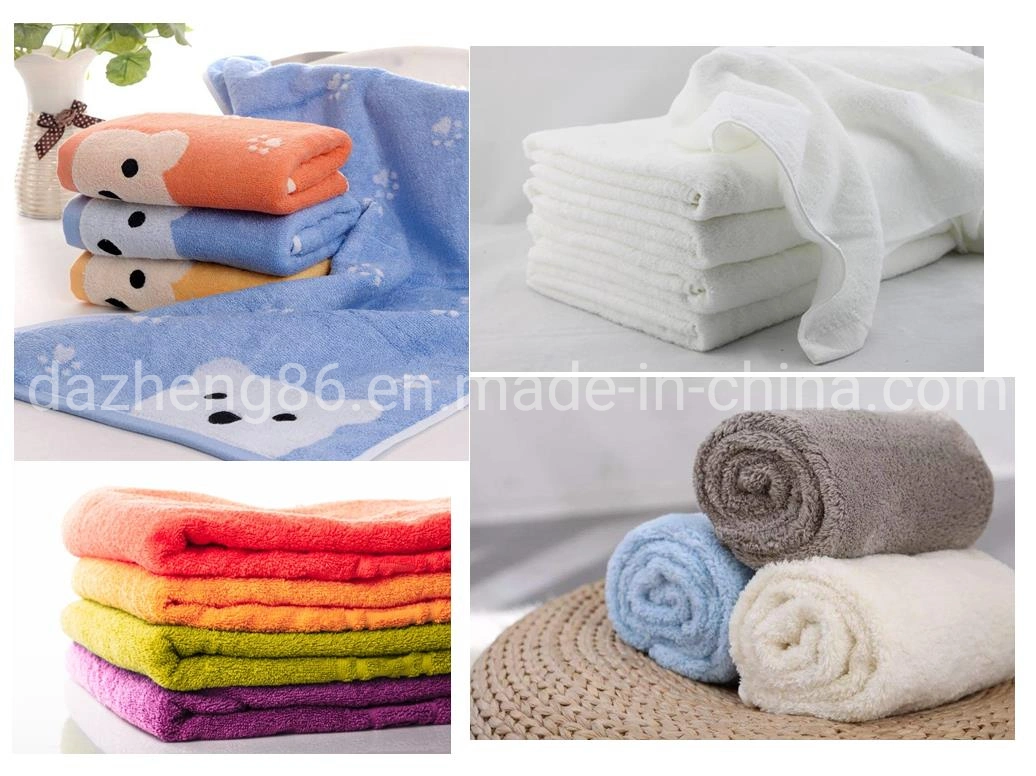 Features
Humanized control and operation system
Panda GA798B-III
is our Latest-model Middle Speed Towel Rapier Loom with more advanced technology, comprehensive functions, higher speed and efficiency. It is designed to weave all kinds of terry towel fabrics at weight 20~1000g/sqm with many different looping patterns.
1.
We adopt advanced
double CNC servo system, servomotor control full bearing cam looping and servo take-up
, as well as SYNC variable weft density weaving
and
second weft stop motion
(broken warp location SYNC automatic stop on the second weft all time)

.

By setting the height of each weft, we can control the pile height and weave all kinds of different loop patterns freely.
2.
Compared with traditional terry towel rapier loom, it has more advantages below.
1). We increase its speed to 200~250rpm; 2). Six linkage beating-up system;
3). Improved rapier transmitting system can provide more powerful conveying force;
4). Automatic centralized lubricating system, easy operation;
5). Machine weight is 3.1 Tons. We double the weight of wallboards to make the machine run even faster and smoothly.
Main Specification
Model: Panda GA798B-III Terry Towel Rapier Loom

Reed Width(cm)

150,180, 200, 230, 280.

Rotation Speed

Design speed 200~250rpm.

Weft Insertion

200~250 weft/min picked by left and right rapier heads and rapier bands.

Warp Beam Dia.

Standard ground beam 600mm, pile beam 800mm.

Cloth Roll Dia.

Max. 400mm, can match with big rolling cloth mechanism.

Weft Accumulator

FDP electronic weft accumulator.

Driving Control

Rated 2.2~3KW main motor power, 3-phase line, 380v, 50hz.

Beat-up Motion

6 bar linkage beating-up and weft insertion system.

Lubrication System

Centralized auto-lubrication system for the loom, separate enclosed type electronic oil pump lubrication for dobby, easy operation.

Electric Circuit

Standard modularization design, LED displays working condition.

Weft Selection

6~8 colors electronic weft selection mechanism.

Pattern Design

CAD design software, and files transferred by U-disk.

Yarn Range

Spun yarns: 500tex (1.2Ne)~5tex (120Ne);




Filament yarns: 10dte(9td)~1650dte(1500Td). Yarn count: 6~40S.

Shedding Motion

16 pieces heddle frame, electronic dobby 24 shafts broach automatic shedding; can match with jacquard.

Looping Motion

CNC control servomotor cam looping, formed by reed movement, 3~7 picks switching freely. Loop height: 0~14.5mm.

Let-off Motion

Negative and continuous electronic let-off, controlled by frequency converter and displacement sensor, runs sensitive, beam tension uniform and stable.

Take-up Motion

Servomotor control take-up, adjustable by pick wheels according to weft density changes of fabrics.

Selvage Device

Mechanical selvage cutter, Leno selvedge.

Temple

Ring type copper cylinder with pin.

Machine Drive

V-belt direct machine drive, brake by electromagnetic clutch.

Warp & Weft Stop Motions

Warp: second weft stop motion (electronic control auto stop on the 2nd weft);


Weft: high-sensitivity piezoelectricity detector control automatic stop.




4-colour multi-function indication lamps display machine

halt condition.

Electronic Control

Micro-computer functional automatic control system with memory card, push button panel on electric cabinet, big LCD in Chinese and English showing working condition and all process data, e.g. speed, shift/day output, etc., easy operation for instant adjustment, parameter setting and programs making.

Size and Weight

450*250*260cm3, 3.1 MTs.