JA11-250 High speed shuttleless shuttle less weaving textile machine air jet loom
High strength framework
Framework is made of two-side box type sheet, beam and bracket in middle, which can produce excellent product even for producing heavy or high tense fabrics.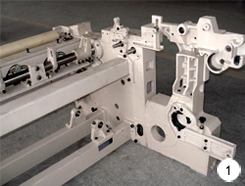 Double cloth-pressing roller lifter
When guiding cloth, double cloth-pressing roller lifter can lift up and down roller at the same time; and then guide cloth through aperture with batching roller with saving much of labor and time; moreover, its very secure.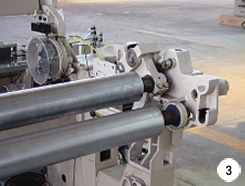 New double rear beam configuration
Depend on swing frame, it can add one fixed beam that can rotate with yarn; it can keep press angle of including beam for yarn; meanwhile, it makes including stress more precise.
Double swing the main jet device
Double swing the main jet device used in tandem swing boost the main nozzle to nozzle flow is more gentle on the role of weft, and further improve the machine performance.
Fold into the side of pneumatic device
By the electronic control of the jet stream within the folded end to make yarn, weaving side to achieve the fabric light, simple structure, easy to use and will not damage due to mechanical failure of the reed, it will not wear due to mechanical parts to affect the quality of cloth edge.
Super start-up torque main motor
Our company independent developed the super start-up torque main motor, with strong power, achieved a loom when staring torque of super high rate, prevent stop mark and the first yarn of the weft relaxation, large bulk density electromagnetism brake to achieve a loom accurate stop.