Automatic tire recycling machine/tyre shredder machine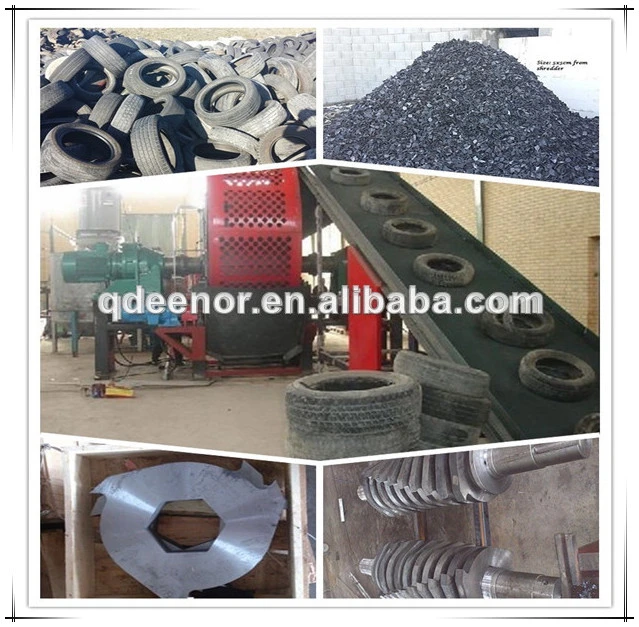 Tire debeader
The first step in tire recycling procession
Heavy duty body
Hooks and cross pulling die made of 45# steel, tempered and quenched
Equipped with protection frame avoiding the dangers during working
Two series: Hydraulic one and mechanic one
Easy to operate and change spare parts (hooks and cross pulling die)
Tire cutter
Cutting tires into pieces before shredding
Small tire pieces are easier to process in shredder
Knives made of YG-20 steel, long using time
Hydraulic control
One clamping cylinder and one cutting cylinder
Equipped with a roller platform to process big tires
Tire shredder
The high-capacity shredder was specially developed for direct size reduction of tires into cleanly cut tire chips, size 50x50 mm. Cutting shafts for the production of larger tire chips are available high torque at low speed cut even the strongest tires into pieces.
All construction characteristics are designed for continuous operation in order to achieve highest throughput rates at lowest costs.
Extremely precise tolerances between the cutting knives produce cleanly cut tire chips at low energy consumption.
The cutting knives made of high quality alloy steel can be re-sharpened and reused which increases the service life and reduces the operating costs.
The complete cutting chamber is lined with hard wear plates.
Large doors allow for easy access into the cutting chamber.
Tire cracker
The shear between the two rollers will make tire chips into powders as well loosen rubbers, steels and textiles
Roller body made of cast steel
Surface of roller made of alloy steel, welded when worn out
One flat surface roller and one teethed roller, high throughput of powders
Bottom made of cast iron
Emergency stop when overload
Distance between the two rollers can be adjusted.
Hard gear gearbox
Equipped with screening machine, magnetic separator and fiber separator, 99% purified rubbers will be got.
Finals: 8-30 mesh
Magnetic separator
Final Product(5-120 mesh tyre powder), As picture:
The same time, Tyre powder is widely use in many industry. It can make rubber tile, reclaimed rubber, car part Ect others.
2-Reclaimed rubber Making Line From Tyre Powder:
1. Dynamic desulfurization tank (1 sets
Product Name
Dynamic desulfurization tank
Model specifications
2. Open mixing mill (you need 2-3 sets)
1. Diameter of roller: 450mm
2. Working length of roller: 1200mm
3. Speed of front roller: 24.26m/min
4. Friction ration of two rollers: 1: 1.27
5. Max gap: 15mm
6. Capacity: 25-50kgs
7. Wieght: 2000kgs
8. Motor power: 55KW
9. Dimension: 6150*2280*2000mm
3. Rubber refiner( 1 sets)
1. Front rolle diameter: 480mm (drum )
2. Rear roller diameter: 612mm (drum)
3. Working length of roller: 800 mm
4. Front roller linear speed: 22.97m/min
5. Speed ratio of 2 rollers(front/rear): 1: 1.82
6. MAX GAP: 15mm
7. Motor power: 55KW
8. Dimension: 4700*2100*1480mm
FINAL PRODUCTS(RECLAIMED RUBBER):
No
Name
model
quantity
Power
whole tire pre-processing , you will get < 50*50MM rubber crumb
1
Single hook debeader
LS-1200
1
11 KW
2
Whole tyre cutter
WTC-120
1
5.5 KW
3/4
Whole tyre shredder( with whole tyre conveyor)
ZPS900
1
61.5 KW
Rubber powder processing: you will get 3-8 MM rubber powder,at the same time, separate the fiber and steel wire
5
Tyre crusher
XK560
1
75 KW
6
Big conveyor equipment
BCL-8
2
2 KW
7
Small conveyor equipment
BCL-3
1
1.1 KW
8
Big Magnet separator
BMS22
1
2.2 KW
9
Small Magnet separator
SMS-1
1
1.1 KW
10
Big Shaking screen
BSS-8
1
7.5 KW
11
Small Shaking screen
SSS-3
1
3 KW
12
Fiber separator
FS110
1
11 KW
13
Fine grinder
XMF420
1
32.4 kw
14
Circle shaking screen
DIA600
1
2.2 kw