chocolate coated wafer packaging machine/ flow wrapper/ flow wrap machine/ flowpacker/ packaging machine/ packing machine
Introduction:
SZ180 horizontal flow wrap machine is ideal for suppliers of products that must be packaged individually. Flow wrapping is a horizontal packaging process in which product enters the machinery and is wrapped in clear or printed film. The result is a tightly fitted flexible package with a horizontal back seal and end seal.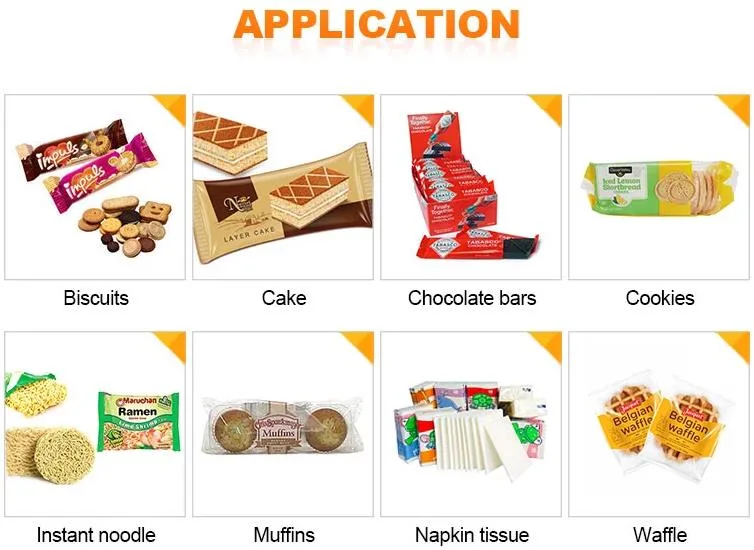 Application:
Bakery products:
Biscuits

Brownies

Cookies

Crackers

Croissants

Muffins

Cake

Cup cake

Bread

Bun

toaster pastries

Hamburger

Pancakes

Sandwiches

Wafer

Waffle
Bar products
Breakfast bars

Candy bars

Chocolate bars

Crisped rice bars

Energy bars

Nutrition bars
Noodle:
Instant noodle

Rice noodle
Daily necessities
Napkin tissue

Toilet paper

Soap

Washing sponge
Product with tray
Technical Parameters
Model

SZ180




(3 servo)

Bagging size range

L60-300mm




W35-160mm




H5-50mm

Packing speed

30-300bags/min.

Packing film width

90-400mm

General power

5 kw

Film material

1Ph. 220V 50Hz

Power supply type

400Kg

Machine weight

4000 x 930 x 1370mm

Machine dimensions
SZ Series Full Servo-control Packaging Machine Features
Simple system structure

: System is composed by servo motors, servo driver and touch screen. Servo driver is built-in motion control formula of packaging machine without any independent controller, all wiring is connector assembly. Performance of compact design, convenient maintaining and competitive price.

Simple operation

: With intelligent control system of HMI, it gets simple parameters setting and adjustment.

Big bagging size range

: Bag length can be set from 60mm to 600mm via color mark tracking or bag length presetting. To set bag length is much easier and flexible.

Shaftless driving

: Adopt shaftless driving technology among 3 shafts, no mechanical joint, each shaft is controlled by servo motor with gear reducer.

Auto-shift cutter

: Cutter is running with variable shift, speed curve is generated automatically without manual adjustment, and save mechanical cams.

Faster line speed

: Max. line speed is up to 50m/min., long package can be packed faster.

Faster packing speed

: With color mark tracking function, max. packing speed can be up to 200bags/min(Double jaws).

High accuracy of color mark tracking

: Color mark tracking accuracy is up to 0.1mm

Packless function

: With this function, no matter when in-feed products are continuous or intermittent, each package will has product inside and no empty bag, so as to reduce loss of film material.

Cutless function

: With this function, if sensor detects any product is out of position inside film, cutter will stop and restart until this product is discharged.

Film splicer

: Finished film roll will be spliced new film roll automatically by film splicer without machine stop, so as to save operation time and labor.

Cutter torque protection

: System detects stress condition of cutter automatically. When hard product is being cutting, resistance is bigger than preset value of torque protection, cutter will stop immediately and run backward, machine can be restarted until this cutting product is discharged without restoration. Value of torque protection is set via touch screen randomly.

Customizable special function

: Machine can be modified according to customer's requirement. The whole machine is applied with multiple safety protection devices, which can be equipped with various automatic feeding system.
SZ180 Machine Standard features
Sanitary machine design allows for easy clean-up

Slim machine body for saving packing room

Intelligent control system with 3 servo motors

Color mark tracking

Machine can easily be integrated with Soontrue's full line of automatic feeding system and other upstream or downstream equipment